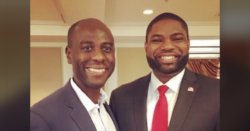 LARGO (FLV) – Congressman Byron Donalds endorsed Berny Jacques in the Republican primary to serve as state representative for House District 59.
"We need Conservatives like Berny Jacques representing us in the Florida House," Donalds said. "Berny will fight for our 2nd Amendment, defend the unborn, and will stand up for our American values against the woke left. I strongly endorse Berny Jacques because he is a conservative we can trust to deliver results for Florida."
Jacques served as an Assistant State Attorney for Florida's Sixth Judicial Circuit.